The process of finding the right real estate marketing agency can feel very much like going on a blind date.
After all, you're entrusting a key part of your business to someone you may not know very well. And just as with dating, it's important to do your homework before making any commitments.
The search for "the one" can feel time-consuming and exhausting, especially when you're not sure where to start.
If you're looking for the right real estate marketing firm to help take your business to the next level, here are a few tips to get you started on the right track.
Why Hire a Real Estate Marketing Company
A real estate marketing company can provide your business with a comprehensive marketing strategy that will help you to reach your target audience and achieve your sales goals.
A good marketing company will have a team of experienced professionals who understand the latest marketing trends and can develop an effective plan that includes traditional and digital marketing tactics.
In addition, a real estate marketing company can provide you with access to a variety of resources, including graphic designers, web developers, and copywriters.
By working with a real estate marketing company, you can focus on running your business while leaving the marketing to the experts.
Marketing Agency VS. Lead-Generation Agency
When it comes to real estate marketing, there are two main types of companies you can hire: marketing agencies and lead-generation agencies.
Marketing agencies provide a wide range of services, from branding and website design to social media marketing and search engine optimization. They can help you create a comprehensive marketing plan and execute it flawlessly.
Lead-generation agencies focus exclusively on generating leads for real estate agents. They have extensive experience in generating leads through online channels such as paid search, SEO, and social media. They are also experts in lead nurturing and converting leads into clients.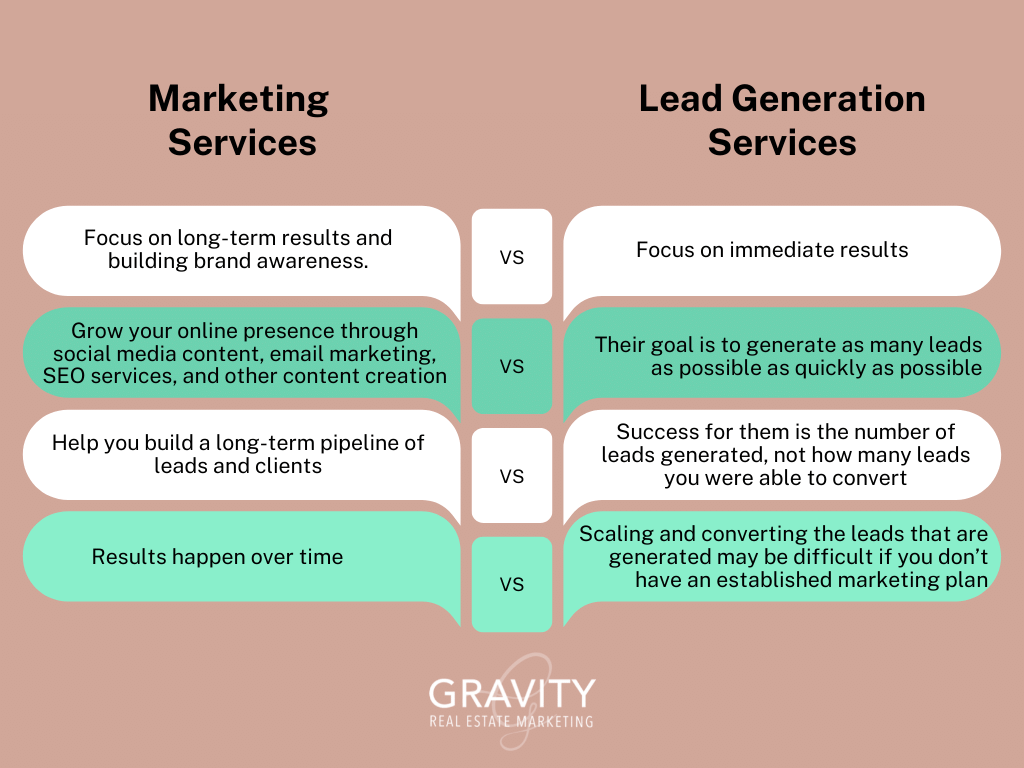 So which type of company should you hire? It depends on your needs and budget. If you want a one-stop shop for all your marketing needs, then a marketing agency is the best option. But if you're looking for more targeted leads that are likely to convert into clients, then a lead-generation agency is the better choice.
Types of Real Estate Marketing Companies
When it comes to real estate marketing, there are generally four different types of companies to choose from.
Marketing Agencies:
Marketing Agencies provide complete campaigns and strategies that are tailored exactly to your individual needs.
Marketing Service Companies or Consultants:
Marketing services companies or individual consultants provide more specific offerings, such as website design, SEO, or social media management. Often with these types of services, the agent works in partnership with the company or consultant to achieve the goals.
All-in-one marketing platforms:
All-in-one platforms claim to offer many parts of the real estate marketing in a single price (or range). These platforms typically allow you to bring together a website, email marketing, print marketing, and more, but there is still work on the agents part.
The outsourced or freelancer:
Freelancers typically specialize in a single type of digital marketing such as video, social media management, website design, etc.
Ultimately, the right choice for you will depend on your budget, your needs, and overall goals.
What to look for when choosing a real estate marketing company
When it comes to finding the right marketing provider, the first thing a real estate agent needs to check for is experience within the real estate industry.
From there, it's important to choose a company that has a proven track record of success and can provide real estate agents with the services they need. Not all marketing providers specialize in every marketing tactic.
For example, if you're looking to increase brand awareness, you'll want to choose a company that specializes in SEO and social media marketing.
If you're looking to generate leads, on the other hand, you'll want to choose a company that offers lead generation services.
By doing your research and choosing wisely, you can ensure that you find a real estate marketing partner that will help you reach your goals.
Understanding Your Needs in a Marketing Company
When meeting with a marketing company, real estate agents need to be clear on what their needs are. They need to have a good understanding of what they hope to gain from the partnership. Without this understanding, it's difficult to make an informed decision on which company is the best fit.
Questions Real Estate Agents Should Consider Before Hiring a Marketing Agency
What are their goals for the upcoming year?
What kind of marketing campaigns do they want to run?
What kind of results are they looking for?
What does their budget look like?
What is their timeline?
By asking these types of questions, real estate agents can get a better understanding of what they need and want from a marketing company.
If a real estate agent can't articulate what their needs are, it will be difficult for the marketing company to understand what type of services would be most beneficial. It's important for both parties to have a clear idea of what they want so that they can work together to achieve the desired results.
Common Marketing Services Real Estate Agents Need
If you're unsure what type of marketing help you need, consider some of the most popular marketing services that real estate agents use:
Social Media
Creating real estate social media content is not as easy as it seems. It takes a lot of thought and creativity to come up with something that will grab people's attention. Oftentimes, real estate agents struggle to find the right balance between providing interesting and relevant information and promoting their brand.
A real estate marketing company that provides social media content creation will be able to help real estate agents come up with a plan that gets them in front of their ideal clients and bring their vision to life.
Email Marketing
Email marketing is one of the most efficient forms of digital marketing available to real estate agents. Not only does it allow you to get in front of your audience, but provides the highest ROI.
Marketing services that provide email marketing should be able to provide you with a mixture of campaigns designed to turn your audience from lead to client by providing sales funnels and ongoing lead nurturing sequences.
Website Strategy and Content
Having a real estate website that is user-friendly, looks professional, and provides valuable information and resources to potential clients is essential for real estate agents. If your website is outdated or doesn't function properly, and it doesn't provide visitors with the information they're looking for, it will reflect poorly on your brand.
But what's the point of having great content and a good-looking website if no one sees it?
A good marketing agency will be able to help you create a website design and strategy that will move clients toward hiring you as their real estate agent. They'll take into account your goals, your target audience, and your unique selling points to craft search engine optimized content that gets you found.
Not only will you have a website that looks great, but it will also do an excellent job of showcasing why you're the best person for the job.
Copywriting and Landing Page Design
When it comes to marketing your real estate business, it's important to have a solid strategy in place. An experienced marketing agency can help you create compelling marketing copy and design landing pages that convert.
With their help, you can generate more leads and grow your business.
Graphic Design
Graphic designers can create flyers, business cards, and other print and digital marketing materials that help agents market their properties and services. They can also design digital materials, such as website graphics, social media posts, and online ads.
In addition, graphic designers can help agents brand their businesses, developing logos and other visual elements that will make their businesses stand out from the competition.
Digital Advertising
Services like Google AdWords and Facebook Ads allow you to target potential customers with laser precision, and they can be very cost-effective.
In addition, digital advertising gives you the ability to track your results and adjust your campaign on the fly.
Branding
One of the most important aspects of marketing is branding. A strong real estate brand will help you attract new clients, stand out from other agents in your area, and build trust with potential buyers and sellers.
There are a number of elements that go into creating a strong brand, but the most important is having a consistent voice and message across all platforms.
By investing in these areas, you can make sure that your brand is strong enough to weather any storm.
What questions to ask before hiring a marketing company
Hiring a marketing company is a big decision for any real estate agent. After all, your business is only as successful as your marketing efforts.
To ensure that you make the best possible decision, there are a few key questions that you should ask before hiring a marketing company.
What is their experience in the real estate industry?
A real estate agent needs to ask a marketing company what their experience is in the real estate industry before hiring them to ensure that they will be able to provide the services that they need.
The real estate industry is constantly changing, and it is important for agents to have someone on their team who is familiar with the latest trends and technologies.
By taking the time to ask about a marketing company's experience in the real estate industry, an agent can be sure that they are getting the best possible service.
What results have they been able to achieve for other clients?
The results that the marketing company has been able to achieve for their clients will be a good indicator of what they will be able to achieve for the agent's business.
What is the cost of their services?
Cost is always an important factor to consider when hiring any type of service provider.
However, it is especially important to consider the cost of a marketing company's services before hiring them.
Not all marketing companies charge the same rates, and it is important to find one that fits within the agent's budget.
What is included in their services?
Real estate agents should always ask about what is included in a marketing company's services before hiring them.
Some companies will only provide a few basic services, while others will offer a comprehensive suite of services that can help an agent with everything from branding to lead generation.
If you are receiving 1:1 services from a marketing provider, be sure there's a signed contract in place to keep parties accountable to the services.
How much time will you need from me as the client?
Real estate agents are often very busy, and it is important to find a marketing company that requires minimal time from the client.
Some companies will require weekly or monthly check-ins, while others will be able to work independently with little input from the agent.
How is communication handled?
Communication is a key part of any business relationship, and it is especially important when working with a marketing company.
Agents should ask about how communication will be handled before hiring a marketing company to ensure that they will be able to get the information they need in a timely manner.
By asking these questions, you can get a better sense of whether or not a particular marketing company is the right fit for your business.
Marketing Services for Real Estate Agents
With a better understanding of the different types of real estate marketing services available and what to look for when choosing one, you should be able to find the perfect marketing company for your business.
Gravity Real Estate Marketing offers a range of services designed specifically for real estate agents, and we would love to chat with you about how we can help your business grow. Learn more about our marketing services or schedule a free consultation to find a plan that's right for you.