Are you a real estate agent striving to reach the next level of success? A real estate sales funnel could be your path there!
A real estate funnel creates more leads, boosts brand recognition, and makes converting your leads into buyer and seller appointments much easier.
Real estate funnels are a combination of marketing, sales, and website design, which work together to create an automated system for converting leads into clients.
Ready to ignite your real estate business?
With a high-converting real estate sales funnel, you can make waves in the industry by increasing conversions and giving potential buyers or sellers a reason to choose YOU!
We'll show you how tailored funnel strategies will not only bring more people through the door but maximize leads, grow revenue, and expand your reach. Let's get started on spicing up that strategy – let's go!!
What is a Sales Funnel, and Why You Need it for Real Estate Marketing
Before we get too far into developing your real estate sales funnel, it's important to understand that a real estate funnel isn't just a website. It is so much more than that. It is a strategic system with multiple layers of engagement, which helps to capture leads for the agent and create relationships with potential buyers and sellers.
A website provides an overview of the real estate business, often featuring pages like 'About', 'Contact' and 'Blog'. Websites typically give visitors an understanding of what the realtor offers and why they should choose them as their real estate brokerage.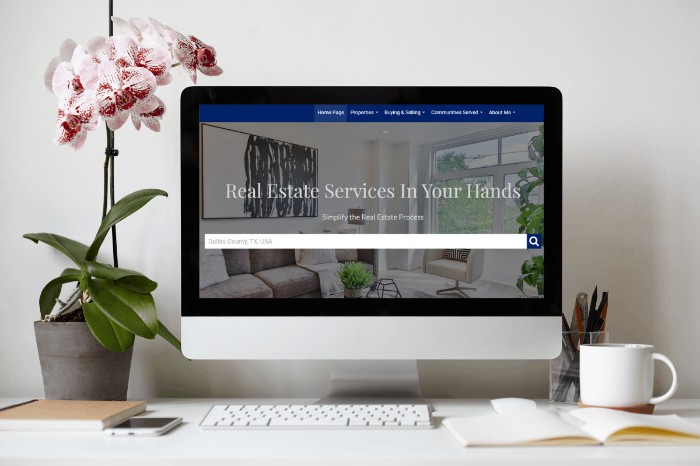 On the other hand, landing pages focus on one particular action or purpose. For real estate, this could be an email signup for a helpful guide, providing a CMA or neighborhood report, or registering for an upcoming virtual open house event. Landing pages are designed with just one key objective; convincing people to take that specific desired action.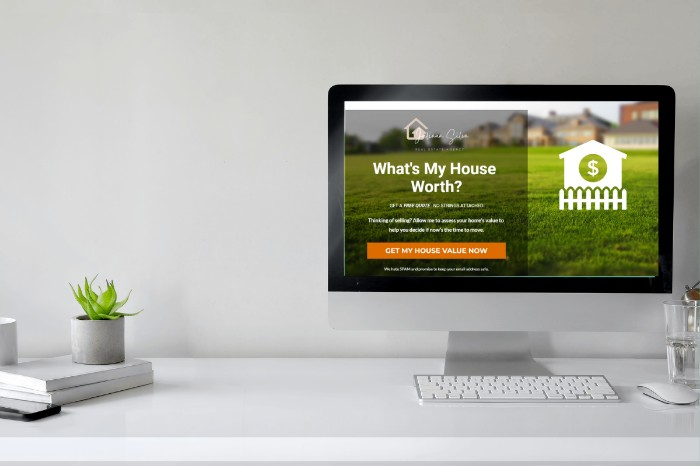 By efficiently optimizing a funnel, agents will be able to convert leads into clients through automated systems such as emails, downloadable guides, or webinar registration forms which can be tailored to specific client needs.
The 4 Stages of a Real Estate Sales Funnel
The four stages of a real estate sales funnel are awareness, leads, prospects, and clients. Real estate agents need a solid understanding of how different stages within their real estate sales funnel work together if they want to succeed in generating new business. Let's break down each stage so you can better understand how to maximize the success of your real estate funnel.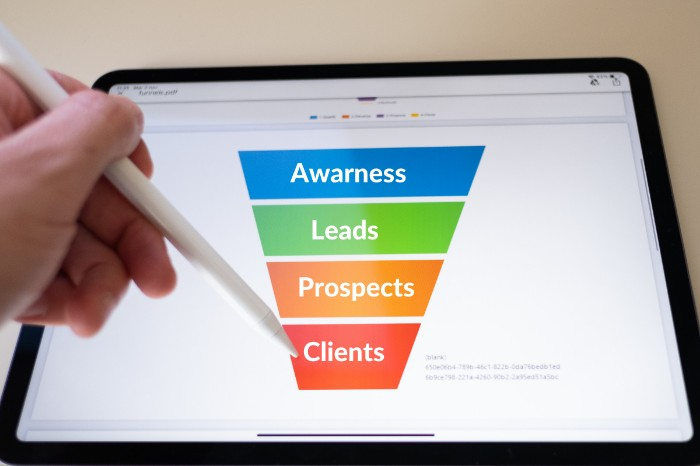 Awareness: Building Traffic and Lead Generation
The first stage of the funnel is building traffic and gaining leads. To do this, you need to establish yourself as an expert in the field and build relationships with your audience.
When it comes to bringing awareness to your real estate brand for lead generation, you have two options – you can work on getting the most leads possible or focus more intently on finding qualified prospects.
There are a number of ways you can bring awareness to your brand, including content marketing, social media, and traditional outreach methods.
To fill your website with visitors, real estate agents should take advantage of content marketing. Through content marketing strategies, people will become familiar with your brand and be more likely to hire you for the real estate services you offer.
When it comes to growing a social media presence, it all starts with engaging the people who follow you. Every follower could be a potential new lead and open up opportunities for further growth in the future!
Content marketing and social media are a must for any real estate agent but don't forget about the tangible materials that may be distributed, such as business cards, flyers, or mailers. You never know where your next lead might come from!
The other option is to focus on more qualified prospects who are ready to buy or sell right now.
For example, real estate agents can try sending out personalized emails, making phone calls to expired or FSBO listings, or hosting open houses, which allows them to target buyers or sellers who are likely to commit. By targeting specific people, real estate agents can increase their chances of bringing in solid qualified leads that could turn into profitable transactions.
Remember, though, regardless of which way you go – lots of lead gen or better prospect filtering – both will take roughly the same amount of time, so choose wisely.
Leads: Turning Your Audience Into Prospects
Real estate marketing relies on creating trust and building relationships with prospects, which is why once you begin getting traffic to your website and growing your reach on social media, you want to convert those people into real connections.
To do this, it's important to get people engaging with you in various ways—this could mean opting into a mailing list or requesting more information via email, following you on social media, or even just going the old-fashioned route and giving you a call.
At this point, you're still at the top of your real estate funnel. As your traffic, reach, and audience grows, you need to tell them what steps they should take to start engaging with you, allowing you to move them down your real estate funnel to get their contact information and turn them into leads, allowing you to better serve them.
That's why in every blog post, social media post, or ad you put out, you need to include a call to action.
Here's a list of calls to action you could use to get your audience engaging with you:
Follow me to learn more about…
Leave a comment…
Tag someone you know…
Share this with someone…
Click the link…
By including calls to action in your content, you can easily begin directing leads down the funnel and into the nurture stage.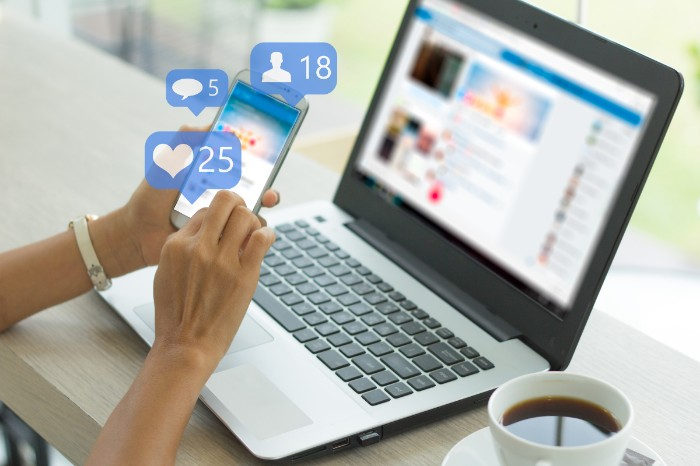 Prospects: Moving Through The Sales Process
At this stage of the funnel, you are trying to move prospects through the sales process until they become clients. To do this successfully requires having a well-defined customer journey mapped out that includes things like providing quality customer service and engaging with them throughout their buying or selling journey using email campaigns or personalized messages on social media platforms such as Facebook or Instagram.
By keeping up regular communication and fostering meaningful relationships with prospects throughout their journey from lead to client, you improve your chances of closing more deals successfully.
It's no secret that in real estate, taking someone from prospect to client can take a good bit of time; on average, it can take 6 months to convert a lead; that's why it's crucial to always be generating new leads to fill your pipeline.
But the better you understand the journey your ideal client is taking, and the more you stay in contact with your prospects, when they're ready to enter the real estate market, they're more likely to reach out to you to represent them.
Clients: Selling, Upselling, and Reselling
At this point, the lead has turned into a potential client, and you've found your way to a buyer or seller appointment. You are now ready to sell your services, upsell your services and resell your services to this person.
As a Realtor, the way you sell and upsell your services can be tricky since you have some fiduciary responsibilities.
The way you sell someone on your services is by showing them the tools and resources you have available to help them meet their needs, breaking down how you can assist them with meeting their goals, or demonstrating the added value you can provide that other agents cannot.
When it comes to upselling a client, while you cannot try to upsell a buyer on a house they cannot afford, you can upsell your home selling services to include an upgraded marketing plan or home staging services.
The additional services and features you offer as part of your business will vary depending on what type of real estate you specialize in. Spend some time planning out your upgraded services and putting together a solid pitch to include them in your presentations to buyers and sellers.
When it comes to reselling, you want to stay in contact with your past clients as much as possible. By staying in touch with them and offering them updated market information or tips on how to stage their home for sale, you keep your services top of mind and build trust with them.
This helps keep your name at the forefront of their minds should they decide to buy or sell in the future, leading to more repeat business and an increase of referral leads.
3 Steps To Building Your High-Converting Real Estate Sales Funnel
Now that you have a better understanding of what a real estate funnel is and isn't, let's break down how to build a real estate sales funnel that allows you to target your ideal audience to generate and convert more leads.
Step 1: Understand WHO You're Targeting & What You're Offering
Knowing who your target audience is and how you can assist them in their real estate journey is key to achieving success.
When asked who are you targeting or how would you describe your ideal client, many agents would answer the question by saying, "individuals who want to buy or sell a home in [INSERT CITY]."
But to set yourself apart from other agents, it pays off more–literally–to take the time to identify niche markets within those basic categories.
For example, instead of being known as just any real estate agent selling homes nearby, could you specialize even further by becoming known as the real estate agent who…
Helps buyers and sellers relocating to and from the area
Helps single professionals purchase downtown luxury condos
Understands how to buy a house in a vacation town and rent it out for income
Niching down allows you to create a better-targeted real estate marketing strategy and increase your overall visibility.
When you have a comprehensive understanding of your target market, it becomes easier to capture leads and present solutions that are tailored to their needs.
Knowing what drives people to sell their home quickly for cash or why they want to buy their first home will allow you to provide them with relevant and effective messaging.
By capturing leads more efficiently by targeting the right audience, you can spend less time on research and prospecting and instead focus on converting those leads into long-term partners.
Step 2: Map Out & Create Your Sales Funnel
Building a successful sales funnel requires careful planning. Otherwise, you may find yourself struggling to create a real estate funnel that is efficient and effective. It's important to take the time upfront to think through the process before diving right in.
When it comes to real estate, one of the most commonly used sales funnels is designed with generating leads as its primary focus.
Planning out each step will ensure the lead generation process has all of the components necessary in order to give your business the best chance at success.
A great way to streamline the process is through a simple lead gen funnel that includes three key components.
A resource to entice your audience to give you their contact information – it could be an informational ebook, a promotional video, or even an exclusive discount on services a buyer or seller might need.
Landing pages are a great way to collect the contact information of potential customers using an opt-in form in exchange for some kind of desired resource.
Follow-up email marketing campaign to nurture and convert the leads by sending helpful content that will build customer loyalty
Here's how that might look.
First, you start by promoting the resource.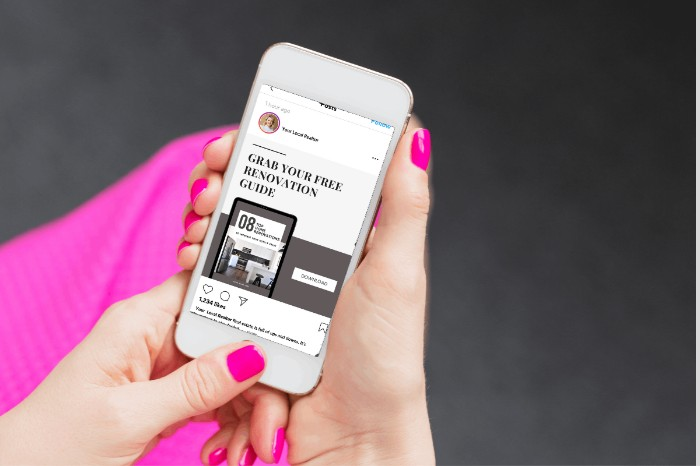 After deciding they want to get the free guide, they'll move on to the landing page, where they'll get a better understanding of what information will be provided to them.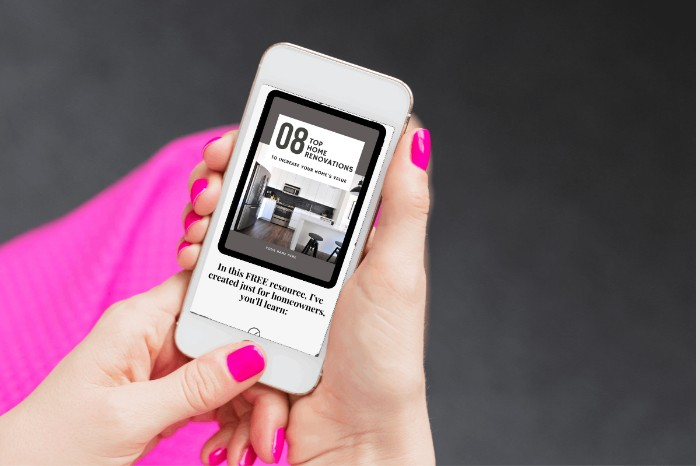 Once they request the information, you'll redirect them to a thank you page to download the guide or report, and then you can add them to your drip campaign to start trying to convert them to an appointment.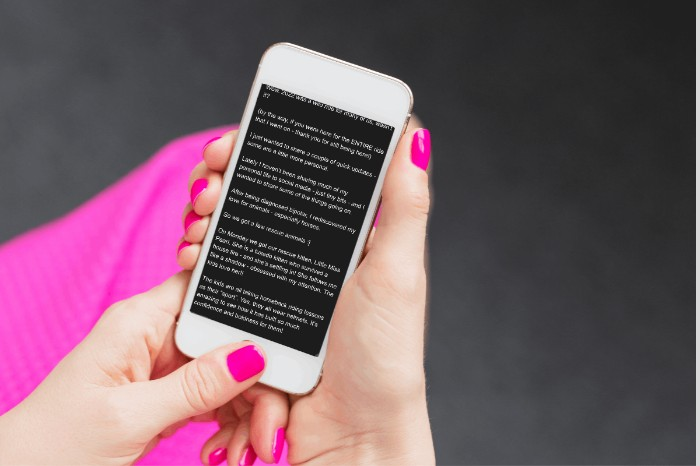 They receive the information they're seeking, and you, as the real estate agent, will have a new lead to contact and nurture.
By following this model, you'll quickly create an effective lead gen system!
Step 3: Increasing Traffic & Measure Conversion Rate
Congratulations on creating your sales funnel. Now it's time to get the word out! A great way to do this is by promoting your offer organically on your social media profiles and website or by running ads.
Quick Tip: Before running ads, test out your funnel organically to optimize your spending.
If you're looking for longer-term results, try optimizing SEO elements in your content to increase website visitors and publishing information across social media platforms too!
Here are some different ways you can increase traffic to your brand to start generating leads.
Organically
To organically promote your free resource and drive traffic to your landing page, your social media channels and your website are powerful tools in your arsenal. Create posts for your social platforms that talk about a problem clients might have and clearly highlight how the resource could be used as a solution. For your website, using blog content with images promoting the resource on your website is also an effective way of engaging customers and getting them familiar with what you offer.
Facebook Ads
Running a Facebook ad campaign is one of the most effective ways to get brand visibility and increase traffic to your website. With Facebook Ads, you can reach potential leads in your target market quickly and easily. By creating a Facebook ad that is tailored to the demographics and interests of your target audience, you can maximize the reach of your campaign and generate more qualified leads.
Google Ads
Google Ads is a powerful tool for driving website traffic and leads. With Google Ads, you can create targeted campaigns to reach people who are already searching for the solutions you offer. Simple terms to start with include 'real estate agent in [CITY]' or sell my [CITY] home fast. You can also use Google Ads to optimize your website for lead conversions by creating ads that link directly to specific pages on your website.
Driving traffic to a real estate sales funnel is the start of a beautiful journey — this is where real estate agents will be able to fine-tune and optimize what works best for achieving success.
Testing Your Funnel
To ensure your real estate marketing efforts are paying off, when you create a landing page and write copy for ads, consider A/B testing different elements to see what works best. Elements you'll want to test include the headlines, adjusting the offer, changing up images, and manipulating form field length to determine what resonates best with your target audience.
This process can be a tad overwhelming at first, but it will be worth it in the end when you see conversions soaring due to the tweaks you made!
Additionally, consider experimenting with a few different tones of voice to see which one wins out – keep things conversational to ensure the highest levels of engagement. Ultimately, A/B testing is an invaluable tool that should not be overlooked when it comes to optimizing your funnel.
Create Your First Funnel
Now that you understand the basics of a real estate sales funnel and how it works, you can start building your own high-converting sales funnel. By understanding who your target audience is and what they're looking for, you can create content that speaks to their needs and moves them through the sales process.
If you need help getting started, we're here for you. Our team of experts can help you build a sales funnel from scratch, optimize your existing funnel to increase conversions, or provide you with access to done-for-you content so you can get started generating leads today. To learn more about how we can help you create a real estate marketing strategy to grow your business, contact us today.